Translation of the full text of the interview with Yediot Ahronoth Newspaper, Israel
Printed Tuesday December 17, 2013
On October 21, 2013, Michael Bloomberg outgoing Mayor of New York was named the first Laureate of the Genesis Prize. Dubbed by the international media as the "Jewish Nobel", the Prize carries a $1 million annual award, and is a partnership between Israel's Prime Minister's Office, Jewish Agency for Israel (JAFI), and Genesis Philanthropy Group. The new award and its first Laureate drew much attention in both Jewish and international media.
Yediot Ahronoth Reporter Moshe Ronen spoke with Stan Polovets, Chairman of the Genesis Prize Foundation and co-Founder of Genesis Philanthropy Group, to discuss the choice of the first laureate, the mission of the Genesis Prize and plans going forward.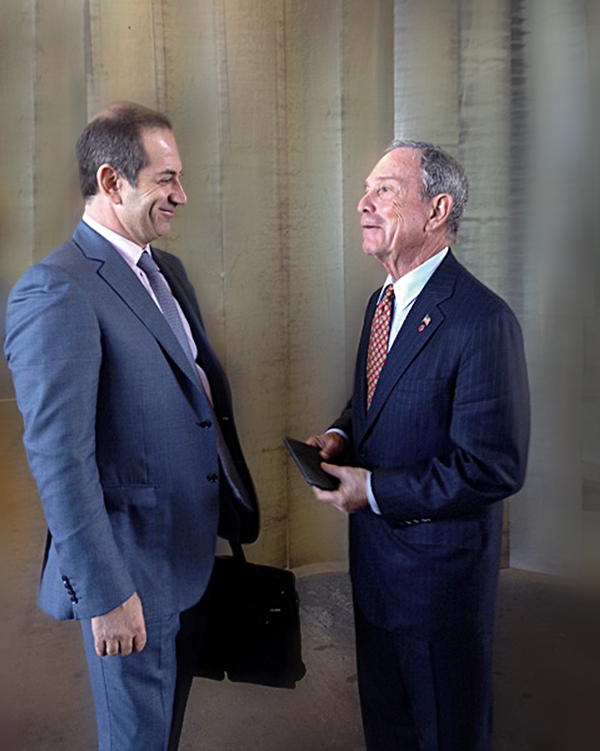 1. Congratulations on awarding the first Genesis Prize. Those who follow the world of philanthropy note that there has been a proliferation of prizes, many of them carrying large financial rewards. Does the world need another prize, and what are you trying to achieve?
The Genesis Prize is more than just another award, and not just once-a-year event. This is a multi-year, multi-pronged project designed to build awareness of the Jewish heritage and identity for young Jews around the world. We do this by honoring an outstanding individual, once a year, with the Genesis Prize. But that is just the tip of the iceberg.
What follows is a year-long rigorous program of engaging various Jewish audiences across the globe – first and foremost young adults – in programs designed to honor the Laureate's outstanding achievement and learn from his experience. This is a long-term project with a $100 million endowment to ensure its long term viability, and we are currently in its inaugural year.

2. What are the main criteria for selecting the Laureate?
First, the Laureate must be an outstanding individual who demonstrated extraordinary achievement in his or her professional field, representing a contribution to the progress of humankind. Second, the Laureate must serve as a role model for others through his/her commitment to Jewish values, the Jewish People and/or to Israel. Last but not least, the Laureate must be dedicated to continuing his/her support of Jewish causes by means of direct personal engagement and action.
Selection of the Laureate is a two-tiered process, handled by two committees. The Selection Committee, chaired by the head of JAFI, Natan Sharansky, considers the long list of nominees, producing a short list. After that, the Prize Committee, chaired by the Speaker of the Knesset, Yuli Edelstein selects the Laureate from the short list. Both committees consist of highly distinguished figures such as Nobel Prize Laureate Elie Wiesel; Justice and President Emeritus of the Supreme Court of Israel Meir Shamgar, Justice of the Supreme Court of Israel (retired) Tova Strasberg- Cohen, the Chief Rabbi Emeritus of the UK, Lord Jonathan Sacks and others.

3. Given the criteria you describe, the choice of Michael Bloomberg does not seem obvious. How did the two distinguished сcommittees arrive at this choice? What has Michael Bloomberg demonstrated in terms of his commitment to Judaism that would prompt the Genesis Prize Committees to select him as a role model for Jews? How much of his philanthropy has actually focused on Israeli or Jewish causes?
We received a number of very worthy nominations – 223 nominations, including 176 original candidates. We are very pleased with the committees' enthusiastic endorsement of Michael Bloomberg, and I could not think of a better first Laureate.
Michael Bloomberg is a truly outstanding human being. His extraordinary achievements span many areas of human endeavor: public service, philanthropy and business. In each area, his contribution made a clear and measurable impact.
As mayor of New York, one of the world's largest and most complex cities, he has pioneered bold, innovative solutions that led a significant improvement in New Yorkers' quality of life. His policies impacted crucial areas –jobs, education, housing, environment and safety. His entrepreneurial talent created an innovative news organization that changed the way the world conducts business and contributed to a more open and better-informed world.
While Mr. Bloomberg is well known as an outstanding politician and businessman, less known is the fact that he is one of the greatest living philanthropists. To date his organizations have donated more than $2.5bn. Much of his giving has been discreet, including his various contributions to Jewish causes.
And, to answer your question about his commitment to Judaism – Mr. Bloomberg is very much like many other Jews in the world: not traditional, but very proud of his Jewish roots. His Jewish heritage is very much a part of his multifaceted identity. Many Jews around the world can relate to that.
Michael Bloomberg's track record is a living example of the ancient Jewish principle of Tikkun Olam: a responsibility to heal, repair and transform the world, a desire to contribute to the betterment of humanity. This is precisely what is recognized by the first Genesis Prize.

4. The mission of GPF states that you aim to inspire young Jewish adults. How is selecting a 71 year old American billionaire going to inspire the young Jews around the world? What kind of values are you promoting by selecting someone like Bloomberg?
One of the goals of the Prize is to focus attention of young Jewish adults on outstanding people, whose achievements exemplify the very values I just mentioned. Throughout the history of mankind, Jews have made such an incredible contribution to human progress. We aim to show young adults that this contribution is not merely historic; that there are current living Jewish heroes who can serve as their role models, and inspire them to continue the tradition of Tikkun Olam – for the benefit of the Jewish people, and for the benefit of the entire world.
We have consulted young adult groups in the course of the selection process, and now after the announcement we are in process of putting together a year-long program of events with young adults designed to share Michael Bloomberg's unique experience. They will take place in the US, UK, former Soviet states, Israel and other countries. Having met Mr. Bloomberg, I can say he is a fascinating and yet accessible individual and we expect a great deal of interest in these events.
Young adults are a key audience for the Genesis Prize, but not the only one. By highlighting the connection and continuity between the great Jewish achievement of the past and modern day Jewish heroes, we also want to reach out to Jews of all ages around the world, to spark a renewed interest in their Jewish heritage. Among them are parents and grandparents who may urge their children to explore and discover the Jewish identity in the way that the older generation hadn't been able to.
Finally, this is a high-profile project that has already received a great deal of attention outside the Jewish world. We have important non-Jewish audiences who follow the Prize with great interest, and want to continue to be informed and learn about outstanding Jews and their contribution to human progress. We feel that, over time, this will promote greater understanding in an increasingly complex and interdependent world.

5. Public sources put Michael Bloomberg's net worth at more than $30 billion. Does Mr. Bloomberg really need a million dollars?
Let me put this in context. The Prize carries a significant financial award, but it is not just about the money. It is given to extraordinary achievers on the basis of their merit, excellence and commitment to Jewish values. It is blind to the financial circumstances of the recipient – this is not something the committees even consider in their deliberations.
It often happens that those who have excelled in their field become financially successful; and sometimes not. The first award went to a Laureate who, among other things, happened to be a very successful businessman. No doubt, over the lifetime of this project there will be Laureates who are wealthy, as well as those who aren't.
In any case, it is always the Laureate's decision how to use the funds. Michael Bloomberg has already indicated he is going to donate the entire $1 million award to a philanthropic cause of his choice. He is currently considering various options for this donation and said that he would like to do something "unconventional." We expect a separate announcement of his decision in early 2014.

6. Your partners in this project are the Office of the Prime Minister and the Jewish Agency for Israel. The Prize itself will be awarded by the PM in Jerusalem; the heads of committees are prominent Israelis –JAFI head Natan Sharansky and Knesset Speaker Yuli Edelstein. How is the Prize going to help Israel, given the focus on identity-building programs aimed at the Diaspora Jews?
The main audience of the Genesis Prize is the Jewish people, regardless of where they live. It builds on the common theme of Jewish values. One of the greatest assets of the Jewish people is the State of Israel, and if the Prize gets young Israelis to reflect on their identity, values and what it means to be Jewish – that would be of great benefit to Israel and its future. We are very interested in fostering an ever closer link between Israel and the Diaspora. The strength, diversity and vitality of the Jewish Diaspora are of strategic importance to the State of Israel and its future. The Prize seeks to champion and share an inclusive narrative that attracts new allies and stakeholders living in the Diaspora and invites new bonds with Israel and the global Jewish people. Similar to other programs such as "Taglit Birthright Israel," the Prize will provide an effective platform for building and developing these bonds.
7. Benjamin Netanyahu, Yuli Edelstein and Natan Sharansky all represent the right wing of Israel's political spectrum. Why did you make a decision to affiliate the Prize with right-wing politicians?
The Prize is not a political project, and we certainly did not make a choice to affiliate with any party or political ideology. Our partners are key institutions of the State of Israel. Our collective commitment is to Israel itself. The support of the State of Israel is an important factor in sustaining the long-term success of this partnership– no matter which party happens to be in power at a given moment. In politics, change is constant; but our focus is on something that has endured millennia – the values of the Jewish people.
A few years from now, a prime minister representing a different party, a different Knesset speaker or a new head of JAFI chairing the committees may be involved in selecting a new Laureate and presenting the Prize. But this changes little in terms of our long-term aspirations and vision. This is a multi-decade project that builds on the fundamental values of the Jewish people, which have been constant over the past 4,000 years. So you will appreciate the fact that we have a long-term horizon and as such cannot be focused on current politics, or attached to any political party.

8. There were no young people on the Committees selecting the Laureate. How does this support young adult engagement?
The committee members were invited on the basis of merit, experience and achievement as well as position as defined by the agreement with the partners – PMO and JAFI. During their deliberations they spent significant time discussing the ability of the proposed Laureate to be a role model for young people.
In addition, we held focus groups with young adults in several cities around the world, including New York, London, Moscow, Tel-Aviv, to name just a few. This took place during the first round of nominations. We plan to be even more proactive in the coming years, looking for feedback and deepening involvement of young adult voices in many aspects of the initiative.
9. There are few women on the Committees. And even though Genesis hasn't disclosed the names of other candidates who were considered for the Prize, one might assume there weren't too many women under consideration. Do you have any plans to address this gender imbalance?
This is a relatively young project, and clearly this is one of the issues to which we must pay attention. During the nominations process, about 20% of all nominations received were for women.
If you look at our organization, roughly 25% of members of the two committees and advisory board are women, which is consistent with the current global average, whether we like it or not. They include some very prominent members, such as Jill Smith, President of the Jewish Foundation for the Education of Women. So women are represented, but this doesn't mean that we are complacent.
In fact this is one of the areas on which our organization is focusing as we go into the second year of the Prize. We plan to reach out to individuals and organizations that are involved in promoting women's issues, and we look forward to their nominations of some excellent candidates.

10. What is your vision – where would you like the Prize to be 5 to 10 years from now? How do you define success? And how should the Jewish community judge whether this project is a success?
In 10 years, we will have 10 exceptional people who are the Laureates of the Prize – a minyan of Jewish accomplishment. These individuals will be committed in their support for Israel, and will have publicly defined their relationship to Jewish values. These 10 people would be exemplary modern-day Jewish heroes– an identifiable cohort that young Jews in Israel and around the world might not recognize today.
We would have built and executed 10 large-scale programs that focus on their experience, achievements and values of these modern-day heroes, helping thousands of young Jews around the world explore and strengthen their identity.
If tens of thousands of young Jews around the world feel inspired and proud of their Jewish identity regardless of where they live – then we will feel that we are a clear success.
Finally, we anticipate that the Prize itself continues to develop, and in 10 years it would be an established and globally respected award. It has already been called the "Jewish Nobel" by international media, and our goal is to be recognized on par with the Nobel, Pulitzer, and MacArthur Awards.