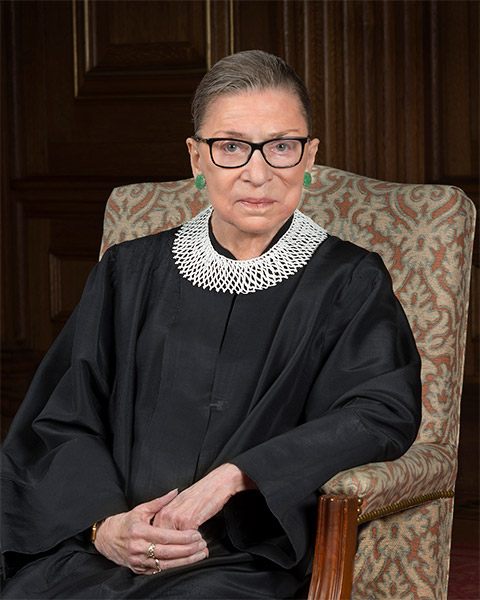 Photo credit: The Collection of the Supreme Court of the United States
Justice Ginsburg Selected by First Five Genesis Prize Laureates Bloomberg, Douglas, Perlman, Kapoor and Portman
November 15, 2017, New York -- Today the Genesis Prize Foundation (GPF) announced that U.S. Supreme Court Justice Ruth Bader Ginsburg has been selected as the inaugural recipient of the Genesis Lifetime Achievement Award. This award coincides with the fifth anniversary of the Genesis Prize, dubbed "the Jewish Nobel" by Time Magazine.
Former President of the Supreme Court of Israel Aharon Barak will present the award to Justice Ginsburg in Tel Aviv in early July 2018.
Justice Ginsburg was selected by the previous five Laureates of the annual Genesis Prize: former New York Mayor Michael R. Bloomberg (2014); actor and peace activist Michael Douglas (2015); virtuoso violinist and advocate for people with disabilities Itzhak Perlman (2016); prominent sculptor and activist for the rights of refugees Sir Anish Kapoor (2017); and actress, director and social activist Natalie Portman (2018).
The first five Laureates of the Genesis Prize issued a joint statement, saying: "We are honored to bestow the Genesis Lifetime Achievement Award on Justice Ruth Bader Ginsburg. Her outstanding contribution to the development of a fair and just society that provides equal opportunity for all makes her a perfect role model for young Jews. Over decades, her work has had a transformational effect on society in the United States and beyond. We honor Justice Ginsburg as an outstanding daughter of the Jewish people who made an enduring contribution to human civilization, who is an example of talent and achievement, and who is committed to bettering the world. She is a source of inspiration not just for Jews but for people of all faiths and ethnicities around the world."
Justice Ginsburg is known for her groundbreaking legal work in the field of civil liberties and women's rights in the United States. She achieved prominence as a litigator and a legal scholar, and argued landmark cases that helped establish and strengthen the principle of equal opportunity.
Justice Ginsburg was appointed to the U.S. Court of Appeals for the District of Columbia Circuit by President Jimmy Carter in 1980, and to the U.S. Supreme Court by President Bill Clinton in 1993.
Ruth Bader Ginsburg was the first woman to gain a tenured professorship at Columbia University's Law School, and the second woman appointed to the U.S. Supreme Court. She is the Court's sixth and longest serving Jewish Justice. Her constant endeavor to advance the ideal of justice, equal and accessible to all, has made her an iconic figure among young people. Justice Ginsburg often cites her pride in her Jewish heritage, to which she attributes her love of learning and her sensitivity to the plight of oppressed minority groups.
"We are very pleased with the choice made by the Genesis Prize Laureates to recognize Justice Ginsburg," said co-founder and chairman of the Genesis Prize Foundation Stan Polovets. "It is an honor and a privilege to celebrate a living legend who has done so much to make the world a better place. We look forward to her visit to Israel, a country where she is widely respected and admired." Mr. Polovets added that the prize received by Justice Ginsburg does not include a financial award.
MEDIA CONTACTS
Alison Rose
267-738-0677
BACKGROUND
The Genesis Prize Foundation
The Genesis Prize Foundation administers the Genesis Prize – an annual award that honors individuals who have attained excellence and international renown in their chosen professional fields, and who inspire others through their dedication to the Jewish community and Jewish values. Previous Genesis Prize laureates have directed the substantial cash award associated with the prize to various philanthropic causes about which they are passionate.
Justice Ruth Bader Ginsburg
Ruth Bader Ginsburg, Associate Justice, was born in Brooklyn, New York, March 15, 1933. She married Martin D. Ginsburg in 1954, and has a daughter, Jane, and a son, James. She received her B.A. from Cornell University, attended Harvard Law School, and received her LL.B. from Columbia Law School. She served as a law clerk to the Honorable Edmund L. Palmieri, Judge of the United States District Court for the Southern District of New York, from 1959–1961. From 1961–1963, she was a research associate and then associate director of the Columbia Law School Project on International Procedure. She was a Professor of Law at Rutgers University School of Law from 1963–1972, and Columbia Law School from 1972–1980, and a fellow at the Center for Advanced Study in the Behavioral Sciences in Stanford, California from 1977–1978. In 1971, she co-founded the Women's Rights Project of the American Civil Liberties Union, and served as the ACLU's General Counsel from 1973–1980, and on the National Board of Directors from 1974–1980. She served on the Board and Executive Committee of the American Bar Foundation from 1979-1989, on the Board of Editors of the American Bar Association Journal from 1972-1978, and on the Council of the American Law Institute from 1978-1993. She was appointed a Judge of the United States Court of Appeals for the District of Columbia Circuit in 1980. President Clinton nominated her as an Associate Justice of the Supreme Court, and she took her seat August 10, 1993.