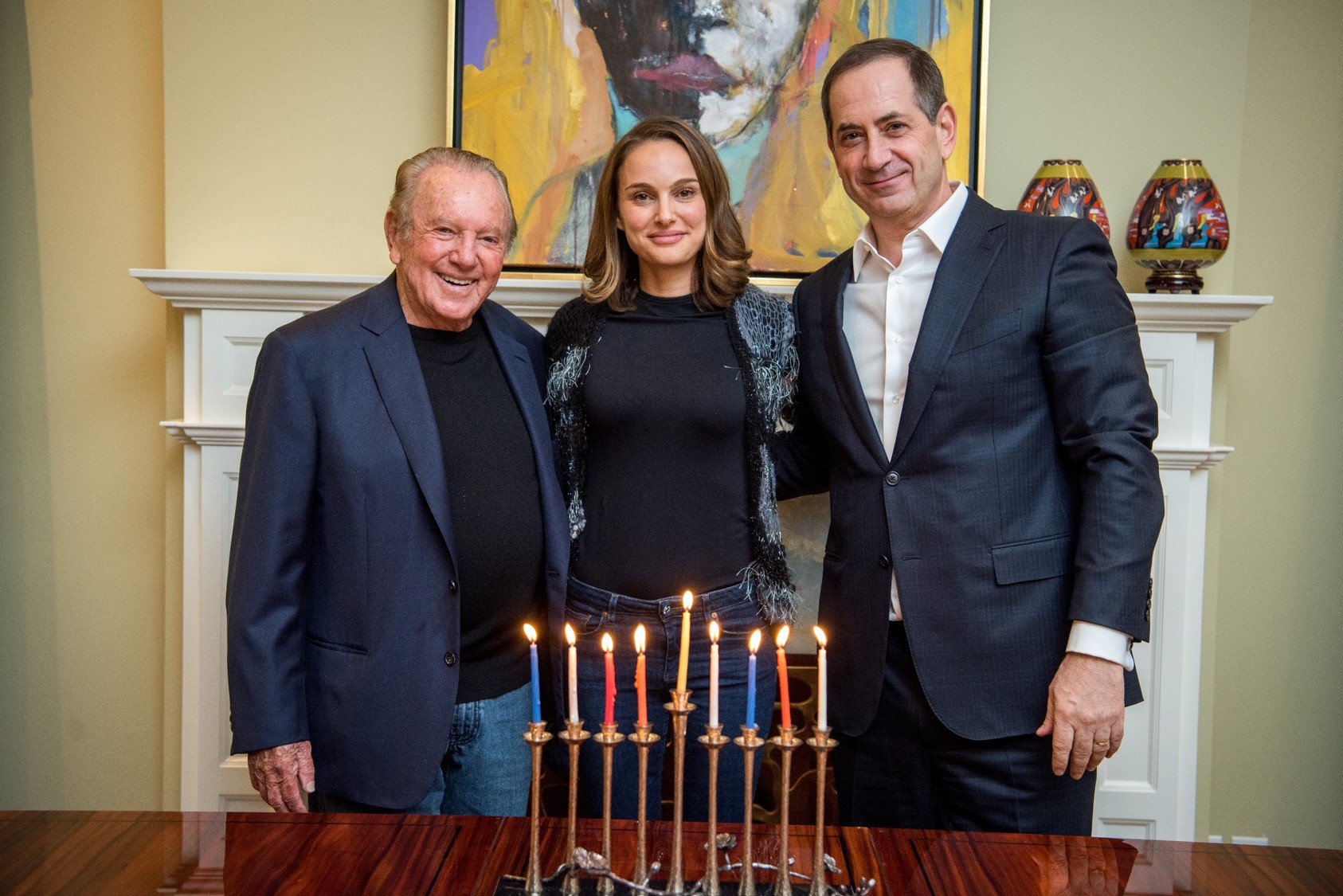 December 19, 2017 – The Genesis Prize Foundation announced today that Israeli philanthropist and humanitarian Morris Kahn has made a $1 million gift to the Genesis Prize Foundation in honor of 2018 Laureate Natalie Portman.
Morris Kahn's gift doubles the 2018 Genesis Prize Award Fund to $2 million.
World-renowned actress, director and social activist Natalie Portman became the 5th Genesis Prize Laureate in November 2017. In keeping with tradition established by the previous Laureates who have "re-gifted" their awards, Natalie Portman announced that award funds would be granted to programs focusing on advancing women's equality in all aspects of human endeavor. A significant portion of the funds will go to support NGOs working in the field of women's rights in Israel.
"I would like to express my gratitude and admiration to Morris Kahn for his incredible support of the 2018 Genesis Prize theme," said Portman. "Morris' generosity once again reinforces how relevant and important the issue of women's equality is today – in Israel, in the US and beyond."
Morris Kahn is a South African-born businessman and philanthropist who moved to Israel in 1956. He is the founder of companies such as Amdocs, the Coral World Underwater Observatory in Eilat and others. An active humanitarian, in recent years he has increasingly focused his attention on philanthropy and venture philanthropy.
Mr. Kahn supports a wide range of initiatives that are close to his heart, including the promotion of successful, ethical and challenge-seeking youth leadership; making cataract and trachoma surgery accessible to Ethiopian villagers; running a summer camp for children with terminal diseases; operating a therapeutic riding center for the disabled.
He funds Save a Child's Heart, a non-profit that provides life-saving cardiac surgery for children from developing countries. To date it has saved more than 4,000 lives.
He supports cutting-edge cancer stem cell research and fertility preservation among women cancer patients. Mr. Kahn's latest initiative involves the founding of the Morris Kahn & Maccabi Health Data Institution. The organization will provide a technological platform to support medical breakthroughs in the fields of predictive analysis and precision medicine.
For his contribution to Israel and the Jewish people, Morris Kahn has been named honorary president of the Maccabiah Games (also known as "Jewish Olympics") in 2016.
"It is a privilege to join forces with Morris Kahn, who is widely admired for his thoughtful and innovative philanthropy," said Co-founder and Chairman of the Genesis Prize Foundation Stan Polovets. "This gift doubles the 2018 Genesis Prize Award to $2 million, which will significantly enhance the reach and impact of Genesis Prize programs focused on advancing women's equality."
Earlier this year, Kahn made a gift in support of the 2017 Genesis Prize Laureate Anish Kapoor, whose Genesis Prize theme focused on alleviating the plight of refugees, and raising awareness in the Jewish community of the urgent need to support refugees. Morris Kahn's gift financed treatment of hearing loss among Syrian children from conflict areas that were brought to the Ziv Medical Center in Israel for diagnostic examination, clinical treatment, surgery and rehabilitation.
"I am pleased to have this opportunity to support the 2018 Genesis Prize Laureate Natalie Portman in her noble undertaking, " said Morris Kahn. "The Genesis Prize is known for focusing its philanthropy on issues that are both relevant and timely; the issue of women's equality and empowerment is, without a doubt, one of them. I believe that the outstanding Jewish role model Ms. Portman and the Genesis Prize Foundation together are well positioned to make a difference and drive meaningful change. It is an honor to be a part of this effort."
Ms. Portman's award money will be used for grants to organizations involved in promoting women's educational opportunities, economic advancement, health and safety, and full participation in policy formulation and political activity. Details of how organizations may apply for funding will be announced in early 2018.
Natalie Portman will be honored at the Genesis Prize Ceremony in Jerusalem on June 28, 2018.
BACKGROUND
About the Genesis Prize
The Genesis Prize honors extraordinary individuals who serve as an inspiration to the next generation of Jews through their outstanding professional achievement, commitment to Jewish values and the Jewish people.
The Genesis Prize is a global award created to celebrate Jewish achievement and contribution to humanity. Launched in 2013, the Prize is financed through a permanent endowment of $100 million established by the Genesis Prize Foundation (GPF). The Prize operates as a partnership among The Genesis Prize Foundation, the Prime Minister's Office of the State of Israel, and The Office of the Chairman of the Executive of the Jewish Agency for Israel (JAFI).
Previous Laureates of the Award, dubbed "the Jewish Nobel" by Time Magazine, are former New York Mayor Michael Bloomberg (2014), actor and peace activist Michael Douglas (2015), virtuoso violinist and advocate for people with disabilities Itzhak Perlman (2016) and prominent sculptor and activist for the rights of refugees Sir Anish Kapoor (2017).
Media Contacts, Genesis Prize Foundation:
North America/Europe:
Ali Rose, +1-267-738-0677; arose@genesisprize.org
Israel:
Arik Elman, +972-543-05-1140; aelman@genesisprize.org