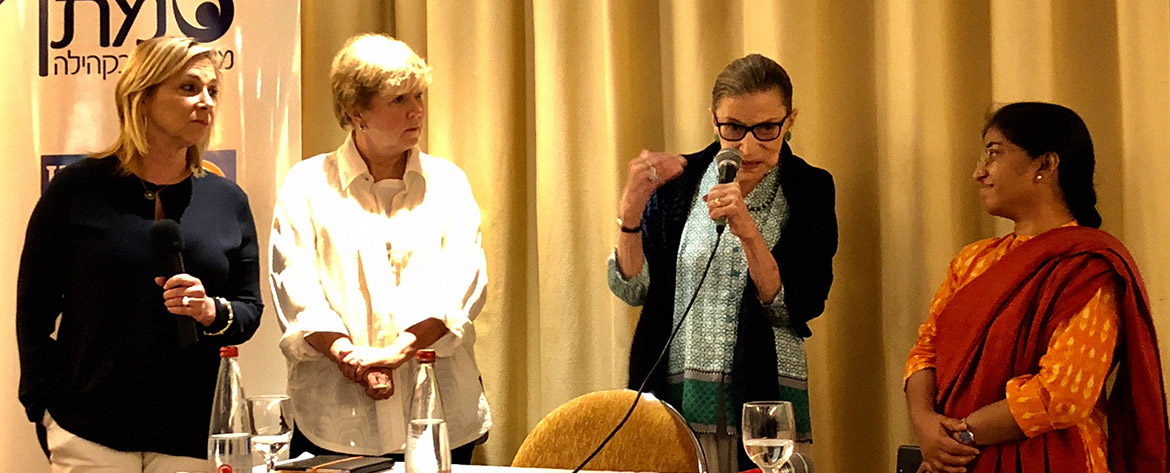 Justice Ginsburg speaks to attendees of the Genesis Prize Foundation Women's Empowerment and Violence Prevention Conference as Senior Advisor to the Genesis Prize Foundation Chairman Jill Smith and keynote speakers Jane Lute and Dr. Sunitha Krishnan look on
Jerusalem, Israel, July 9, 2018: Leaders of Israeli women's rights organizations, members of Israel's Supreme Court and other prominent officials have vowed to intensify efforts to close the gender gap in their country following Justice Ruth Bader Ginsburg's inspiring visit to Tel Aviv and Jerusalem.
Known for her pioneering legal work in advancing women's rights and equality, US Supreme Court Justice Ruth Bader Ginsburg visited Israel on July 3-6 to receive the prestigious Genesis Lifetime Achievement Award from The Genesis Prize Foundation (GPF). All sitting Justices of Israel's Supreme Court, as well as all living former presidents of the Court, attended the ceremony honoring Justice Ginsburg, who visited Israel for the first time in 23 years. For a video overview of the Justice's trip, visit: https://www.youtube.com/watch?v=nNVhLTHnSz4.
President of the Supreme Court of Israel Esther Hayut, who hosted Justice Ginsburg at the Israel Supreme Court and awarded her a special commemorative medal, said: "My colleagues and I were delighted to welcome Justice Ruth Bader Ginsburg, a living legend for all of us. Her visit was an extremely important reminder of the commitment to gender equality we share with her."
Justice Ginsburg's visit became a focal point in a series of events with leaders of Israeli women's NGOs and gave a new impetus to the movement to close the gender gap in Israel. It followed on the heels of The Genesis Prize Foundation's announcements of grant competitions in Israel and North America, which will see up to $3 million in funds being allocated to support women's rights organizations. GPF intends to make grants to organizations working on such issues as enhancing socio-economic opportunities for women, prevention of violence, promoting gender equality among minority groups in Israel, fighting against harassment in Jewish communal workspaces and encouraging girls and young women to pursue careers in Science, Technology, Engineering and Math (STEM). Core funding for these competitions comes from The Genesis Prize Foundation and its partner, Israeli philanthropist Morris Kahn.
Stan Polovets, co-founder and chairman of The Genesis Prize Foundation, said: "The latest Global Gender Gap Report, published by the World Economic Forum, ranked Israel as 44th out of 144 countries, denoting a position nine places lower than a decade ago. Such a low ranking for such a progressive country as Israel is unacceptable. As is the trend."
The WEF report attributes Israel's decline in the rankings to a persistent 40% wage gap between men and women, low levels of women's participation in politics and senior government posts, and an insufficient representation in top management roles in the private sector.
http://reports.weforum.org/global-gender-gap-report-2017/results-and-analysis/
Polovets noted that developed countries such as Norway, France, Germany, and UK rank higher than Israel. Israel is also surpassed by some developing nations such as Rwanda, Colombia, Costa-Rica and Namibia, all of which have a narrower gap between men and women's standings in society, according to the report.
In the course of her visit to Israel, Justice Ruth Bader Ginsburg held meetings with more than 50 leaders of Jewish and Arab women's organizations in Israel. Joining some of these meetings were two other prominent figures brought to Israel by The Genesis Prize Foundation: Jane Lute, Special Coordinator on Improving the United Nations Response to Sexual Exploitation, and Sunitha Krishnan, a globally-known activist and fighter against sex trafficking in India. Lute and Krishnan also spoke at a number of other events organized by Genesis, including a conference on women's rights and prevention of violence against women, a lecture at the Tel-Aviv University, and a meeting with staff and volunteers at the headquarters of the Association of Rape Crisis Centers of Israel.
Jane Lute, who previously served as US Deputy Secretary for Homeland Security and currently works directly with the UN Secretary-General on issues related to combatting sexual violence, said: "I am very impressed with the dedication and professionalism of the Israeli women I met. Their work to prevent violence against women and girls and their efforts to attain gender equality in Israel are inspiring and commendable." Lute's meetings with Israeli women's rights NGOs focused on a systemic approach to the prevention of violence against women, including concrete tools such as training and education, ending impunity, and putting the rights and dignity of the victims at the center of investigations.
Natan Sharansky, a legendary Israeli human rights activist who helped establish the Genesis Prize in 2014 and serves as the Chairman of its Selection Committee, also participated in discussions with Justice Ginsburg. Sharansky, who led the work to establish an egalitarian space at the Western Wall and gave Justice Ginsburg a tour of one of the holiest Jewish sites, said: "Justice Ginsburg's visit reminded us just how important it is to emphasize women's rights and equality as we deal with the other pressing challenges faced by the Israeli society. I am pleased that The Genesis Prize Foundation is focusing on this topic."
Sharansky noted that GPF will also focus on gender equality around marriage and divorce to support Orthodox women; improvement in the status of minority women in Israel from the Arab, Druze, Bedouin and Haredi communities, who suffer from inequality; and empowering all Israeli women to resist violence.
Professor Aliza Shenhar, one of the leading figures in Israel's feminist movement and the first woman to serve as the head of a university in Israel, said: "In the 70 years of existence, Israel achieved very significant improvements in the status of women. Yet so much more remains to be done before the gender gap is closed. This is why the opportunity to meet Justice Ginsburg was so important to all of us. RBG is an inspiration and a role model whose visit encouraged us to continue our work until we achieve truly equal status for men and women."
Contact:
Ali Rose: arose@genesisprize.org; 267-738-0677