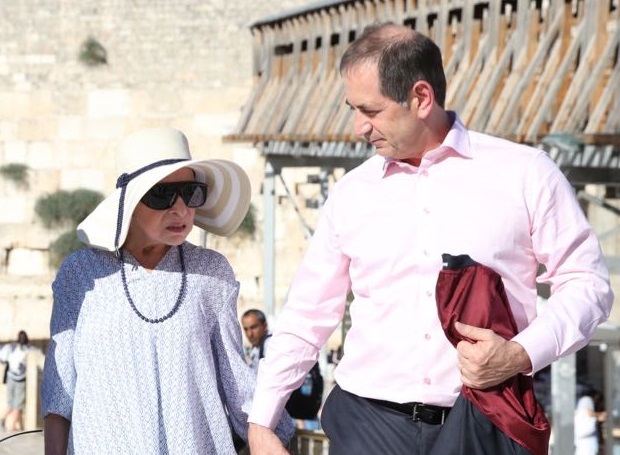 As Rosh Hashanah began on Friday evening, we all learned the sad news of the passing of U.S. Supreme Court Justice Ruth Bader Ginsburg. America lost a judicial pioneer; the world, a champion for the rights of women, minorities and the disadvantaged; the Jewish community, one of its proudest daughters.
And our foundation has lost a dear friend.
Two years ago, Justice Ginsburg was selected unanimously by all previous Genesis Prize Laureates to be honored with the inaugural Genesis Lifetime Achievement Award. She enthusiastically traveled to Israel in July 2018 to receive the award from former President of the Israeli Supreme Court Aharon Barak in the presence of every member of the Israeli Supreme Court and other dignitaries. In bestowing the award, President Barak said, "Without a doubt, Justice Ginsburg is one of the great legal minds of our time; an outstanding Jewish jurist, whose fearless pursuit of human rights, equality and justice for all stems from her Jewish values."
While in Israel, Justice Ginsburg met with leaders of Israeli women's organizations and hundreds of activists – Jews, Arabs, Christians, Druze, and Bedouin – to learn more about women's empowerment issues in Israel and to encourage their work to improve the lives of women and girls. In Justice Ginsburg's honor, and in partnership with Israeli philanthropist Morris Kahn and other funders, The Genesis Prize Foundation granted $3.5 million to fifty women's organizations in Israel and the United States to support gender equality, empowerment to resist violence and socio-economic opportunity for women.
Over this past weekend, even in the midst of the Rosh Hashanah holiday, Israeli television and press dedicated significant time and space covering her passing and highlighting her 2018 visit to Israel. Click here to read the Jerusalem Post article which includes a link to Justice Ginsburg's speech at the Genesis Prize dinner in her honor in Tel Aviv.
On a personal note, it was the honor of a lifetime to have spent significant and meaningful time with Justice Ginsburg. While frail, she held my hand in a strong grip as we visited the Western Wall during her first visit to Israel in almost a quarter of a century. And, as we both knew then, probably her last one….
There is a Jewish teaching that those who die just before Rosh Hashanah are the ones God has held back until the last moment because they were needed most and were the most righteous.
May her memory be for a blessing.
Stan Polovets
Chairman & Co-Founder
The Genesis Prize Foundation