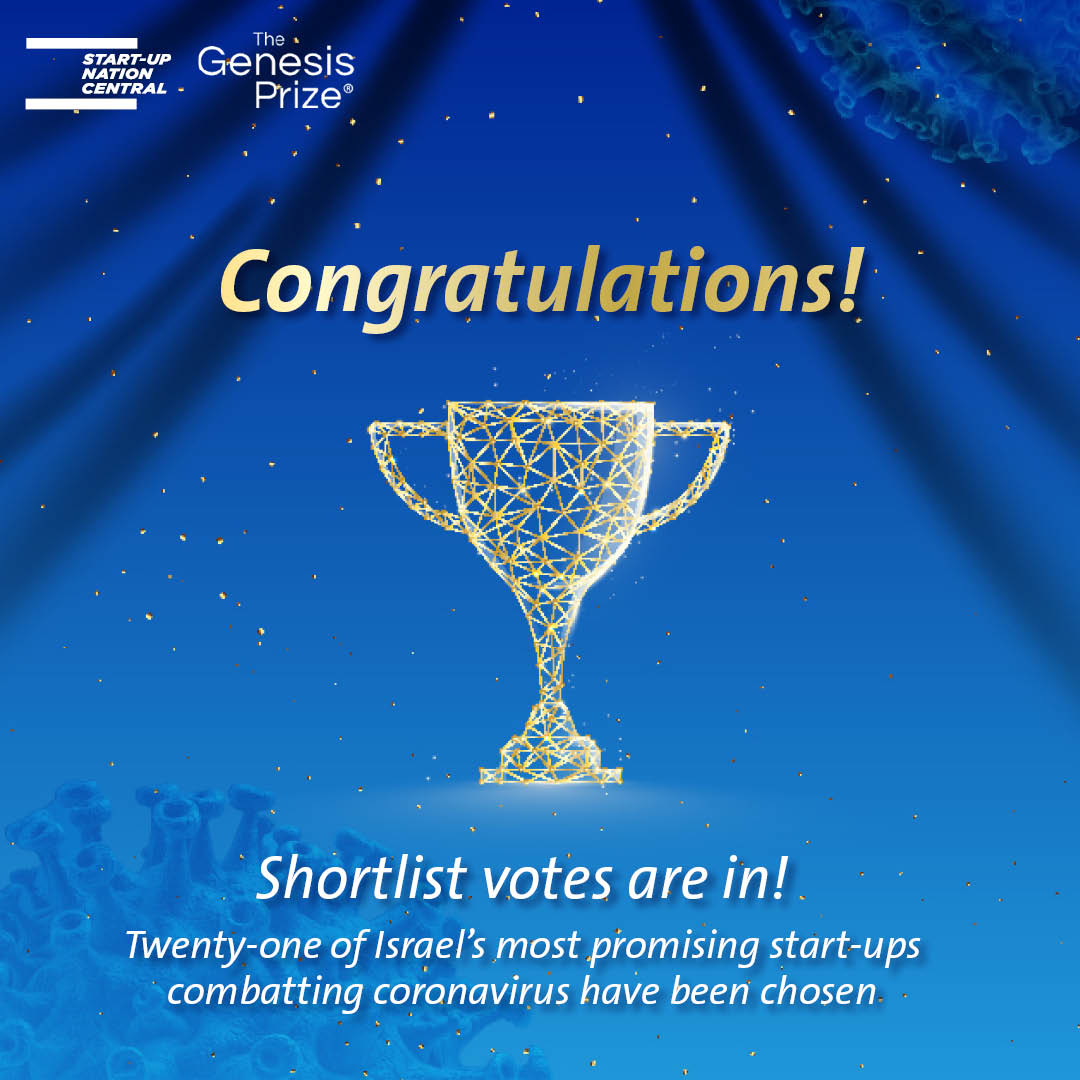 21 of Israel's most promising startups are shortlisted for a competition highlighting the global potential of Israeli innovation. "The shortlisted companies epitomize the best of what Israeli innovation has to offer to help tackle the global crisis."
October 19, 2020 - The Genesis Prize Foundation (GPF) and Start-Up Nation Central (SNC) have announced the companies shortlisted for their COVID-19 startup competition. Winners, to be announced at a festive December 2020 event, will donate their prizes to NGOs working to mitigate the consequences of COVID-19 amongst the most vulnerable populations.
The finalists were selected by a distinguished panel of judges representing the medical sector, high-tech industry, and investment community including Ruti Alon, founder and CEO of Medstrada; Neil Cohen, Chairman of Pembroke Assets; Dr. Yaron Daniely, Head of aMonnm Alpha; Dr. Ora Dar, Former Head of Life Sciences Sector at the Israel Innovation Authority; Prof. Eitan Friedman, Founder and Director of the Sheba Oncogenetics Unit; Dr. Ariel Kor, Founder and Chairman of the Israeli Center on Addiction; Netalie Nadivi, Partner at Triventures; Prof. Salman Zarka, Director of the Ziv Medical Center; and Dr. Eyal Zimlichman, Chief Medical Officer and Chief Innovation Officer at the Sheba Medical Center.

Heading the panel of judges for the final stage in the competition is 2020 Genesis Prize Laureate Natan Sharansky, who chose to dedicate his $1 million prize to initiatives combatting COVID-19, including this competition. Seven winning companies will be selected by Mr. Sharansky and four other judges, including Prof. Eugene Kandel, CEO of Start-Up Nation Central – one company in each of the seven competition categories. As this field is continually evolving, Mr. Sharansky may select up to three additional "Laureate's Choice" winners. This will enable us to address significant breakthroughs that may potentially occur between now and the award ceremony.

"Our judging process looked at several criteria, including the technological potential of the solution, its relevance to the COVID-19 pandemic, scalability, and business potential," explained Dr. Eyal Zimlichman, a member of the panel of judges. "The shortlisted companies epitomize the best of what Israeli innovation has to offer to help tackle the global crisis."
Out of the hundreds that applied, the judges selected startups in seven categories:

In the world of COVID-19 treatments, three startups made the cut: NanoGhost, a drug-delivery technology that uses adult stem cells, to help entrap the coronavirus, making for a less severe infection; Kamada, a plasma-derived protein therapeutics company, which completed manufacturing the first batch of its plasma-derived Immunoglobulin G (IgG) product for coronavirus patients; and Pluristem Therapeutics, a regenerative medicine company developing a novel platform of biological products to treat coronavirus.

In the diagnostics and decision support category four startups made it to the next stage: TailorMed, which provides a personalized projection of a patient's out-of-pocket costs and automatically finds cost-saving opportunities based on insurance optimization and financial assistance programs; Sight Diagnostics, which uses advanced computer-vision and machine-learning technologies in the field of blood diagnostics; K Health, a personalized artificial intelligence-based health assistant, which shows patients how doctors have diagnosed and treated other people with similar cases; and Picodya Technologies, an in-vitro diagnostics (IVD) platform suitable for mass deployment at the point of care, from ICUs and hospital departments to field hospitals, clinics, and home care settings.

Three companies were selected in the protection and prevention category: Neura, which uses artificial intelligence and machine-learning algorithms to transform vast amounts of sensory data into a deep understanding of human behavior, providing a ready-for-deployment system for data-driven decisions; and the Israel Aerospace Industries, which has developed a model that uses artificial intelligence, big data, and machine learning to predict the progression of the disease and coronavirus patients' medical status, and nanotextile technology startup Sonovia, the developer of the cutting-edge "SonoMask," a face mask that has been proven to be more than 90 percent effective against coronaviruses, and 99.89% effective against other viruses.

The three remote monitoring finalists are: EchoCare Technologies, which developed a nonwearable, non-invasive home monitoring system for senior care that automatically detects and alerts users to emergencies and potential safety hazards; Biobeat, which develops a wearable device for continuous, noninvasive, accurate, medical-grade monitoring of vital signs; and EarlySense, which developed a contact-free monitoring system designed to enhance safety and reduce risk for general care patients.

The three assistive technology for the homebound finalists are: Temi, a video-oriented, voice-operated autonomous personal AI assistant robot that can recognize users and follow when requested, save preset locations, and navigate around homes and offices while connecting to smart devices and web services; MyZeppi, whose technology is designed to help older adults and their caregivers "visit" each other through video calls via self-flying helium balloons; and Somatix, which has an artificial intelligence-powered remote patient monitoring platform to observe and monitor the health and wellbeing of at-risk COVID-19 patients and seniors at home and in healthcare facilities.

Non-medical startups are also in the race to win: Vim, which developed a healthcare technology platform that aligns incentives between payers and healthcare providers to enable value-based care decisions, and CardioLync, which developed an outpatient imaging interpretation and reporting system that links doctors, diagnostic imaging technicians, and patients for remote diagnosis.

The three companies that made it to the next stage in the emotional wellbeing category are: GGTUDE, which has developed the GG Self Care app, a personalized research-backed digital intervention for COVID-19-related psychological difficulties and mental-health challenges; 7Chairs, which offers an online support group platform that connects patients with others in the same situation under the guidance of a professional group leader; and EyeControl, an innovative communications solution for ventilated patients in ICUs.

Start-Up Nation Central is an Israel-based nonprofit organization that works to ensure the strength and vitality of the Israeli tech ecosystem and to enhance its positive global impact. SNC leverages its in-depth knowledge of the country's innovation sector to connect multinational corporations, governments, and NGOs to those people and technologies in Israel most relevant to their needs. The organization has become a respected authority on policies relating to Israeli innovation and the go-to source for navigating the innovation ecosystem.

The annual Genesis Prize, dubbed the "Jewish Nobel" by TIME Magazine, honors extraordinary individuals for their outstanding professional achievement, contribution to humanity, and commitment to Jewish values. Legendary Jewish leader and activist Natan Sharansky was announced in December 2019 as the eighth Genesis Prize Honoree in recognition of his life-long advocacy for human rights, democracy, service to the Jewish people and the State of Israel.

Previous Genesis Prize laureates are former New York City Mayor Michael Bloomberg; actor, producer and peace activist Michael Douglas; virtuoso violinist and advocate for individuals with special needs Itzhak Perlman; sculptor and advocate for the rights of refugees Sir Anish Kapoor; Oscar-winning actress and social activist Natalie Portman; and owner of New England Patriots and founder of the leading foundation to combat anti-Semitism Robert Kraft. In 2018, the Genesis Prize Foundation honored the late U.S. Supreme Court Justice Ruth Bader Ginsburg with its inaugural Lifetime Achievement Award for her contribution to social justice and equal rights.

All laureates have selected causes that are important to them, and award funds in their honor have been donated to these causes. These initiatives have included support of social entrepreneurship based on Jewish values, inclusiveness of intermarried families in Jewish life, improving the lives of individuals with special needs, helping to alleviate the global refugee crisis, advancing women's equality, and combatting anti-Semitism and efforts to delegitimize the State of Israel.
For more information:
Hadar Tzour, Debby Communications, +972-54-522-9499, Hadar@debby.co.il