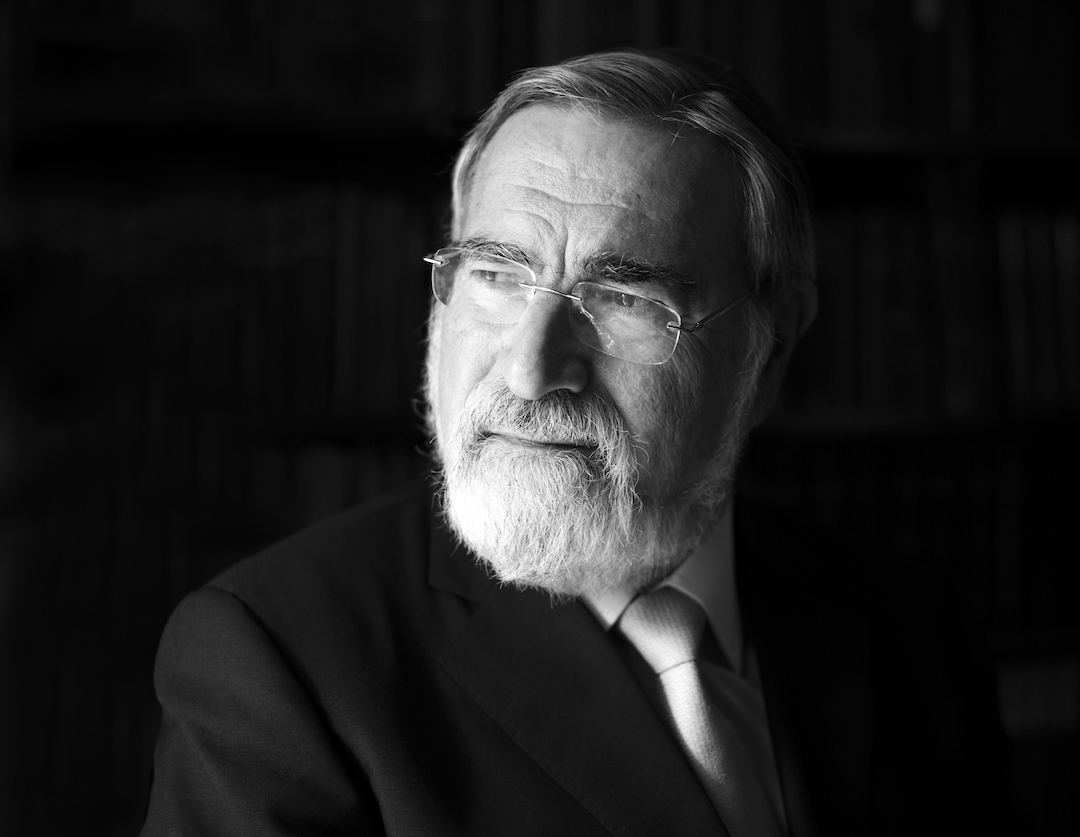 Photo credit: The Office of Rabbi Sacks
London, February 24, 2021 – Today The Genesis Prize Foundation (GPF) announced plans to honor the late prominent scholar, theologian and philosopher Rabbi Lord Jonathan Sacks. The former Chief Rabbi of the UK and Commonwealth passed away on November 7, 2020, three weeks before the conclusion of the public voting for the 2021 Genesis Prize laureate.
On February 10, director, producer and philanthropist Steven Spielberg was announced as this year's recipient of the Genesis Prize.
Lord Sacks was a member of the Genesis Prize Selection Committee from the founding of the Prize until 2015. His insights and wisdom greatly influenced the development of this philanthropic initiative in its early formative period. Today the Genesis Prize, dubbed "the Jewish Nobel" by TIME Magazine, is considered the most prestigious prize in the Jewish world.
"Like so many people around the world, we were immensely saddened by the untimely passing of Rabbi Sacks," said Stan Polovets, Co-Founder and Chairman of The Genesis Prize Foundation. "No one in the world was as adept at explaining Judaism to both Jews and non-Jews as Lord Sacks, always emphasizing the religion's focus on justice, morality, and tolerance. We plan to honor this great Jewish voice by paying tribute to his life's work and supporting the preservation of his intellectual and spiritual legacy, to ensure it continues to live on for future generations."
Rabbi Lord Jonathan Sacks served as the Chief Rabbi of the United Hebrew Congregations of the United Kingdom and the Commonwealth for 22 years between 1991 and 2013. He gained global renown as a teacher of Jewish values, philosopher, prolific author and proponent of inter-religious dialogue. An internationally prominent and admired figure, he was a trusted and influential advisor to the heads of government and members of the British Royal Family.
In 2020, The Genesis Prize Foundation (GPF) for the first time invited the public to nominate laureates for this year's award. Lord Sacks received several hundred nominations and was included as one of the seven finalists for the 2021 Genesis Prize. He passed away in November 2020 in the midst of the voting campaign, during which tens of thousands of Jews throughout the world cast their votes for Lord Sacks.
Recognizing the immense contribution of Lord Sacks to inspiring the next generation of Jews, his unique role as teacher of Jewish values and advocate of inter-religious dialogue, GPF plans to honor the life and impact of this extraordinary Jewish leader at a special event in London (COVID restrictions permitting) on November 22, shortly after the first anniversary of Lord Sacks' passing. Many UK luminaries and distinguished leaders of the global Jewish community are expected to take part in the event.
As part of the event, the Foundation will produce a documentary about the life and impact of Rabbi Lord Sacks and is also currently in discussions with the Rabbi Sacks Legacy Trust about supporting other significant initiatives aimed at celebrating and sustaining his legacy.
Former Prime Minister of the United Kingdom Tony Blair said: "As a teacher, Lord Jonathan Sacks shared the gift of understanding of our own religious traditions and those of others. His insights gave meaning to ancient stories of hope and despair, vision and struggle, wickedness and redemption. He led us to understand how faith is central to human progress. He has been taken from us too young, but his teachings live on. It is our duty to pass these lessons to those who will come after us. I welcome and applaud the initiative of the Genesis Prize Foundation to honor and preserve this precious legacy."
Jewish leader and legendary human rights activist, 2020 Genesis Prize Laureate Natan Sharansky commented: "Rabbi Sacks represents the ancient wisdom of our people, embodied in modern times; a contemporary voice unmatched in its moral clarity, profound knowledge and love of his people, and of the State of Israel. His universalisms were deeply rooted in Jewish tradition; his Jewish teaching opened arms to all cultures and religions. I know Rabbi Sacks took pride helping the Genesis Prize in its early stages and am deeply inspired by the Foundation's decision to celebrate his legacy, ever so relevant today."
About the Genesis Prize
The Genesis Prize is a global award that celebrates Jewish achievement and contribution to humanity. Launched in 2013, the Prize is financed through a permanent endowment of $100 million established by The Genesis Prize Foundation.
Genesis Prize laureates to date are former New York City Mayor and philanthropist Michael Bloomberg (2014); actor, producer and peace activist Michael Douglas (2015); Itzhak Perlman, virtuoso violinist and advocate for individuals with special needs (2016); sculptor and advocate for the rights of refugees Sir Anish Kapoor (2017); Oscar-winning actress and social activist Natalie Portman (2018); owner of New England Patriots and founder of the leading foundation to combat anti-Semitism Robert Kraft (2019); legendary Jewish leader and human rights activist Natan Sharansky (2020); and filmmaker and philanthropist Steven Spielberg (2021). In 2018, the Genesis Prize Foundation honored U.S. Supreme Court Justice Ruth Bader Ginsburg with a Lifetime Achievement Award for her contribution to social justice and equal rights.
Genesis Prize laureates typically select causes that are important to them, and the $1 million prize award along with matching funds are donated to these philanthropic causes in their honor. These initiatives have included support of social entrepreneurship based on Jewish values, inclusiveness of intermarried families in Jewish life, improving the lives of individuals with special needs, helping to alleviate the global refugee crisis, advancing women's equality, combatting anti-Semitism and efforts to delegitimize the State of Israel, and assistance to those affected by the COVID-19 pandemic.
About Rabbi Lord Jonathan Sacks
An international religious leader, philosopher, award-winning author and respected moral voice, Rabbi Lord Jonathan Sacks was awarded the prestigious Templeton Prize in 2016 in recognition of his "exceptional contribution to affirming life's spiritual dimension." Described by H.R.H. The Prince of Wales as "a light unto this nation" and former British Prime Minister Tony Blair as "an intellectual giant", Rabbi Sacks was a frequent and sought-after contributor to radio, television and the press both in Britain and around the world.
After stepping down as the Chief Rabbi of the United Hebrew Congregations of the Commonwealth – a position he served for 22 years between 1991 and 2013 – Rabbi Sacks held a number of professorships at several academic institutions including Yeshiva University, New York University and King's College London. Rabbi Sacks was awarded 18 honorary doctorates including a Doctor of Divinity conferred to mark his first ten years in office as Chief Rabbi, by the then Archbishop of Canterbury, Lord Carey.
Rabbi Sacks authored 36 books. His most recent work, Morality: Restoring the Common Good in Divided Times (2020), was a top ten Sunday Times bestseller and was published in North America on 1st September 2020, being named as the 2020 'Book of the Year' by the National Jewish Book Council. Other works include: Not in God's Name: Confronting Religious Violence; The Great Partnership: God, Science and the Search for Meaning; The Dignity of Difference: How to Avoid the Clash of Civilizations (winner of the Grawemeyer Prize for Religion in 2004 for its success in defining a framework for interfaith dialogue between people of all faith and of none); To Heal a Fractured World: The Ethics of Responsibility; and A Letter in the Scroll: On Being Jewish, winner of a National Jewish Book Awards in 2000.
As a biblical scholar, Rabbi Sacks published a new English translation and commentary for the Koren Sacks Siddur, the first new Orthodox siddur in a generation, as well as powerful commentaries for the Rosh HaShanah, Yom Kippur, Pesach, Shavuot and Sukkot Machzorim. His Covenant & Conversation commentaries on the weekly Torah portion are read in Jewish communities around the world.
In recognition of his work, Rabbi Sacks received, among others, the Jerusalem Prize in 1995 for his contribution to diaspora Jewish life, The Ladislaus Laszt Ecumenical and Social Concern Award from Ben Gurion University in Israel in 2011, The Guardian of Zion Award from the Ingeborg Rennert Center for Jerusalem Studies at Bar-Ilan University in 2014, and The Katz Award in recognition of his contribution to the practical analysis and application of Halacha in modern life in Israel in 2014. He was named as The Becket Fund's 2014 Canterbury Medalist for his role in the defence of religious liberty in the public square; won a Bradley Prize in 2016 in recognition of being "a leading moral voice in today's world"; and in 2017, he was awarded the Irving Kristol Award from the American Enterprise Institute for his "remarkable contributions to philosophy, religion, and interfaith discourse… as one of the world's greatest living public intellectuals." In 2018, he was given the Lifetime Achievement Award by The London Jewish News in recognition of his services to the Jewish world and wider society.
Rabbi Sacks was knighted by Her Majesty The Queen in 2005 and made a Life Peer, taking his seat in the House of Lords in October 2009. Born in 1948 in London, he married Elaine in 1970. Together they raised three children.
Rabbi Sacks passed away on 7th November 2020, aged 72. He leaves behind a legacy as one of the greatest Jewish thinkers of the 20th century, one who bridged the religious and secular world through his remarkable and ground-breaking canon of work.