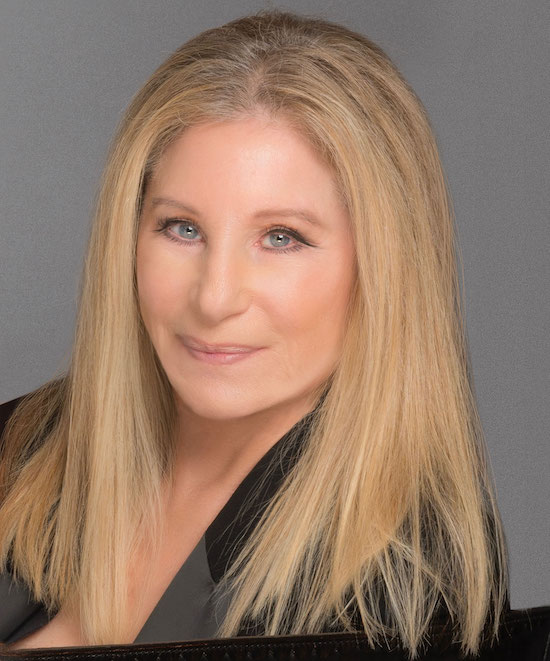 May 1, 2023, New York – Today, The Genesis Prize Foundation (GPF) announced iconic actor, singer, director, author, and activist Barbra Streisand as the 10th Anniversary Genesis Prize Laureate.
The annual $1 million Genesis Prize, dubbed the "Jewish Nobel" by TIME Magazine, honors extraordinary individuals for their outstanding professional achievements, contributions to humanity, and commitment to Jewish values.
Since the launch of the Prize in 2013, Ms. Streisand has received tens of thousands of nominations and votes for the Genesis Prize. Recognizing the overwhelming display of support and admiration by global Jewry over the past decade, the judges of the Selection and Prize Committees unanimously endorsed Ms. Streisand as the 10th Anniversary Genesis Prize Laureate.
Ms. Streisand will be honored at a special ceremony in Los Angeles in October 2023. The Ceremony will take place exactly ten years after the announcement of Michael R. Bloomberg, 108th mayor of New York City and founder of Bloomberg LP and Bloomberg Philanthropies, as the Inaugural Genesis Prize Laureate.
Founder and Chairman of The Genesis Prize Foundation Stan Polovets said: "It is a great honor for our Foundation to celebrate Barbra Streisand – one of the world's most beloved and admired performers. In addition to delighting audiences all over the world for the past six decades with her amazing talents, Barbra has dedicated her time, resources, and passion to numerous important causes, speaking out whenever and wherever she saw injustice. Her sense of responsibility to heal the world grows out of her Jewish values and her Jewish identity, which Barbra has displayed proudly since the very beginning of her extraordinary career. Barbra's innovative philanthropy has had significant impact in so many areas, including health, environment, and gender equality. We look forward to working closely with Barbra and her foundation to expand that impact going forward."
Following the 10-year tradition established by Michael R. Bloomberg, Ms. Streisand has asked The Genesis Prize Foundation to direct her prize funds to nonprofit organizations working in four areas: protecting the environment, promoting women's health, combating disinformation in the media, and aiding the people of Ukraine.
Michael R. Bloomberg said: "Barbra Streisand's passionate commitment to tikkun olam makes her an incredibly deserving recipient of the Genesis Prize. From her groundbreaking leadership on women's health, to her longstanding support for stronger gun safety laws, to her invaluable partnership revitalizing Lower Manhattan through the soon-to-open Performing Arts Center at the World Trade Center, Barbra has made an enormous impact on her native New York and far beyond. She has used her voice – on and off the stage and screen – to inspire generations, and I'm glad to join her fans worldwide in congratulating her."
As an activist and philanthropist, Barbra Streisand has donated – and raised – millions of dollars to address some of the most pressing issues of our time in the U.S. and around the world. Ms. Streisand and her eponymous Foundation have provided extensive funding to more than 2,000 nonprofit organizations and causes over the past 37 years.
Most recently, Ms. Streisand assumed the role of Ambassador for United 24, an organization that provides humanitarian aid to Ukraine. The Genesis Prize Foundation contributed to United 24 in Ms. Streisand's honor earlier this year, along with grants to many other Jewish activists and NGO's working to help alleviate the suffering of the Ukrainian people.
As the 10th Anniversary Laureate, Ms. Streisand follows Dr. Albert Bourla, Chairman and CEO of Pfizer, who was honored for his leadership, determination, and willingness to assume great risks in delivering a safe and effective COVID-19 vaccine in record time.
"I am happy to pass the torch of the Genesis Prize to the incomparable Barbra Streisand – the embodiment of Jewish talent who has touched the hearts of millions, and whose passionate activism and philanthropy has made the world a better place," said Bourla. "I welcome Barbra to the family of Genesis Prize Laureates and wish for the success of the philanthropic projects that will be undertaken in her honor."
The First Lady of Israel Michal Herzog said: "Barbra Streisand is not only my idol, a wonderful singer and actress, but also a trailblazer woman in the show business and film industry – an inspiration for women around the world. She is a true friend of Israel, an exemplary leader in the Jewish and human rights spheres – the definition of a woman of valor!"
Barbra Streisand said: "I am delighted to be honored by the special 10th Anniversary Genesis Prize and to work with The Genesis Prize Foundation to support organizations that seek to better society and our shared humanity. I am very proud of my Jewish heritage, and have always been moved by the Jewish tradition of tikkun olam, to repair the world. I hope to join and inspire others in their own commitment to build a better world."
Background
About Barbra Streisand
Barbra Streisand was born in Brooklyn into a religious Jewish household and attended an Orthodox girls' yeshiva. She built on her Jewish upbringing, knowledge, and pride, introducing and portraying Jewish characters in many of her movies. She has been generous to Jewish causes, supportive of Israel, and is an outspoken critic of rising antisemitism.
Recognized internationally as an icon in numerous entertainment fields, Barbra has achieved unprecedented success as a recording artist, actor, director, producer, screenwriter, author, and songwriter.
She is one of only 23 people – including eight women - to have achieved EGOT status (Emmy, Grammy, Oscar, Tony). In addition, she has received the American Film Institute's Lifetime Achievement Award and the Kennedy Center Honor. She also received the National Medal of Arts from President Clinton, the Presidential Medal of Freedom from President Obama, and France's Légion d'Honneur.
She is the first woman to direct, produce, write, and star in a major motion picture, the first woman composer to receive an Academy Award, the only recording artist who has achieved #1 albums in six consecutive decades, and the first woman to receive a Golden Globe Award for Best Director.
About The Genesis Prize Foundation
The Genesis Prize is a global award that celebrates Jewish achievement and contribution to humanity.
Previous Genesis Prize laureates are former New York City Mayor and philanthropist Michael R. Bloomberg (2014); actor, producer and peace activist Michael Douglas (2015); Itzhak Perlman, virtuoso violinist and advocate for individuals with special needs (2016); sculptor and advocate for the rights of refugees Sir Anish Kapoor (2017); Oscar-winning actress and social activist Natalie Portman (2018); Chairman and CEO of the Kraft Group, owner of New England Patriots, and Founder of The Foundation to Combat Antisemitism Robert Kraft (2019); legendary Jewish leader and human rights activist Natan Sharansky (2020); filmmaker Steven Spielberg (2021); Chairman and CEO of Pfizer Albert Bourla (2022). In 2023, a collective Genesis Prize was awarded to Jewish activists and NGOs working to alleviate the suffering of the people of Ukraine.
In 2018, The Genesis Prize Foundation honored U.S. Supreme Court Justice Ruth Bader Ginsburg with its inaugural Lifetime Achievement Award for her contribution to social justice and equal rights. In 2021, the late Rabbi Lord Jonathan Sacks was honored with a posthumous Lifetime Achievement Award in recognition of his life-long work as a teacher of Jewish values and proponent of inter-religious and intercultural dialogue.
The $1 million prize award, along with matching funds, have been donated in honor of the Laureates to various initiatives, including: support of social entrepreneurship based on Jewish values, inclusiveness of intermarried families in Jewish life, improving the lives of individuals with special needs, helping to alleviate the global refugee crisis, advancing women's equality, combatting antisemitism and efforts to delegitimize the State of Israel, assistance to those affected by the COVID pandemic and to non-profits fighting for racial and economic justice; preserving the memory of Jewish communities destroyed during the Nazi occupation of Greece; and assistance to Jewish activists and NGOs working to alleviate the suffering of the people of Ukraine.
Since inception in 2013, The Genesis Prize has leveraged the annual $1 million award into philanthropic initiatives totaling more than $50 million, with grants going to more than 220 nonprofit programs in 31 countries, directly impacting the lives of tens of thousands of people.