Andrés Spokoiny, Selection Committee Member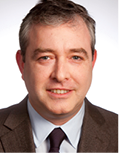 Selection Committee Member
President and CEO of the Jewish Funders Network
Andrés Spokoiny is a long-time Jewish communal leader with a history of leading successful organizational transformations. The CEO of Federation CJA in Montreal from 2009–2011, he helped fundamentally change the Federation's operations and its relationship with the community.
In Montreal, as a young, 'out of the box' Federation executive, he spearheaded a new branding strategy and initiated and developed innovative community programs that are now being used as models across North America.
Before joining the Federation, Andrés worked for the American Jewish Joint Distribution Community (JDC) in Paris. As Regional Director for Northeast Europe, he was responsible for a number of pan-European projects, leading programs in the areas of Welfare, Leadership Development, Jewish Renewal, Education, Community Development, and Outreach, and building coalitions with local and international organizations, public and private.
While at JDC, Andrés also served as the Director of Leatid Europe, a leadership training institute for Jewish lay and professional leaders and directed the International Center for Community Development, a partnership of JDC and Oxford University to produce applied research and knowledge management for community development practitioners.
Before his Jewish communal work, Andrés worked for IBM and was responsible for training, development, hiring, and recruitment for IBM's Latin America Southern Region during a period of major restructuring.
Originally from Argentina, Andrés has a multidisciplinary academic background including business, education and rabbinical studies in different institutions around the world. He is fluent in Hebrew, English, French, Spanish, Portuguese and Yiddish, and is proficient in Russian and German.