Fiamma Nirenstein, Selection Committee Member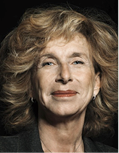 Selection Committee Member
Journalist and Author
Former Member of the Italian Parliament and Deputy-President of the Foreign Affairs Committee
Fiamma Nirenstein was born in Florence where she completed her university studies in Modern History. A journalist and author, Mrs. Nirenstein is a leading columnist for "Il Giornale" daily. On April 2008, she was elected member of the Italian Parliament within "Il Popolo della Libertà" party and she served as Vice-president of the Committee on Foreign Affairs of the Chamber of Deputies for the entire XVI legislature (ending on March 2013). Mrs. Nirenstein also established and chaired the Parliamentary Committee for the Inquiry into antisemitism.
Mrs. Nirenstein has written ten books, the latest being "A Gerusalemme". In Italy, Nirenstein has introduced and prefaced Bernard Lewis, Natan Sharansky and Ruthie Blum. Her previous book, "Israel is Us", has been translated into English ("Israel is Us: A Journalist's Odyssey in Understanding the Middle East", JCPA ed., 2009). For her books and work as reporter, Mrs. Nirenstein has been awarded 18 journalistic and literary prizes.
Mrs. Nirenstein is an expert on the Middle East conflict, terrorism and antisemitism. She has been a columnist and a correspondent for all major Italian magazines (Panorama; l'Espresso; Epoca). Nirenstein has also contributed to the New York Sun, Commentary Magazine and has written for Moment Magazine. Until her election to Parliament, Nirenstein was the correspondent from Israel for "Il Giornale". From 1991 until December 2006, she worked as correspondent and columnist for "La Stampa" daily. In '93-'94, she also directed the Cultural Institute of the Italian Embassy in Tel Aviv.
In 2011, Mrs. Nirenstein has been unanimously elected chairperson of the International Council of Jewish Parliamentarians (ICJP), an organization that brings together Jewish legislators, parliamentarians and government ministers from around the world. In June 2011, Nirenstein was included in the Jerusalem Post list of the 50 most influential Jews in the world, headed by Marc Zuckerberg.
In 2011, Mrs. Nirenstein established a Center on Foreign Policy called SUMMIT – for the dialogue between Europe and Middle East, human rights and democracy. Mrs. Nirenstein is a board member of the Italian Foundation Magna Carta and a fellow of the Jerusalem Center for Public Affair, as well as board member of "European Friends of Israel" (EFI). She is also one of six members on the steering committee of the Interparliamentary Coalition on Combating Antisemitism (ICCA), and among the founding members of the "Friends of Israel Initiative", led by President José Maria Aznar. In 2009, Mrs. Nirenstein, together with the other members of the ICCA steering committee, received an award from the Israeli Knesset for her commitment to the fight against antisemitism. In April 2011, she received an award in New York from CAMERA, for her activity as "Friend of Israel".
The pivotal focus and underlying idea that runs through all Fiamma Nirenstein's work is the fight against totalitarianism and terrorism and its connection to antisemitism and the hate for Israel. Since 2007 she has a popular website/blog: www.fiammanirenstein.com.