Meir Shamgar z"l (1925-2019), Founding Member of the Prize Committee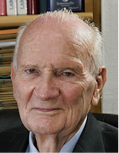 Founding Member of the Prize Committee
Justice and President Emeritus, Supreme Court of Israel
Justice Meir Shamgar was born in 1925 in the free city of Danzig. He immigrated to Israel in 1939 and studied History and Philosophy at the Hebrew University of Jerusalem and Law at the Mandatory School of Law. He was among the Etzel and Lehi members exiled and held in detention by the British in Africa.
When the State was established in 1948, Shamgar returned to Israel and enlisted in the Israel Defense Forces. Between 1961 and 1968 Justice Shamgar served as the Military Advocate General of the IDF. Upon his release from the IDF, he was appointed Attorney General of the State of Israel, and served in that capacity until his appointment to the Supreme Court in 1975.
From 1983 until his retirement in 1995, at the age of 70, he served as President of the Israeli Supreme Court. Since then, Justice Shamgar has stood at the helm of a number of investigative commissions. In 1996, he received the Israel Prize for Life Achievement. Until his passing on October 18, 2019, he served as an arbitrator and devoted time to public service at the Israel Democracy Institute, the Yitzhak Rabin Center, the Open University, and other institutions.