Judge Tova Strasberg-Cohen, Prize Committee Member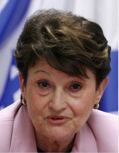 Prize Committee Member
Justice of the Supreme Court of Israel, retired
Tova Strasberg was born in Poland on May 12, 1933. Tova studied at the Alliance Israélite Universelle School and later at the Hebrew University High School.
In 1954 she received her LL.B. at the Hebrew University of Jerusalem and the same year she married a fellow lawyer, Yehuda Cohen (b. 1928). In 1955 she received her M.Jur. at the Hebrew University and then did her military service as a defense attorney (1955–1957). In 1958 she was admitted to the Israel Bar. From 1958 to 1959 she worked in a private law firm and then set up her own office, where she worked until 1977. In that year she was appointed a magistrate and registrar at the Haifa District Court, where she was promoted to a permanent judgeship in 1978. From 1992 to 1994 she served as vice president of the Haifa District Court. In 1994 she was appointed to the Supreme Court, where she served until reaching the mandatory retirement age of seventy in 2003. Tova and Yehuda Cohen have two sons and a daughter: Avner (b. 1957), Eyal (b. 1961) and Taly (b. 1969).
Justice Strasberg-Cohen was renowned for her contribution to civil law. She developed more progressive rules regarding class actions, aiming to protect consumers vis-à-vis the economic agents ruling the market. She broadened the principles of causation and introduced innovative recognition for damages from injury resulting from medical malpractice and for injury resulting from the failure of doctors to obtain patients' informed consent to treatment. She also specialized in the subject of restitution, on which she gave courses at the University of Haifa.
She also achieved fame because of her rulings on issues related to the status of women.
Justice Strasberg-Cohen, who is Honorary President of the Israel Association of Maritime Law and an honorary member of the International Committee on Maritime Law, was a member of the Orr Commission to reform the Israeli court system and headed the commission on court registrars. She retired from the High Court on May 12, 2003. Because of the reputation she had earned as a measured and courageous judge, who was meticulous in her respect for those who appeared before her in court, she was asked to be the first incumbent in the newly-created and extremely challenging position of ombudsman for public complaints against judges. She took up this position on October 1, 2003 and published her first report in May 2005.
Bio taken from Jewish Women's Archive online, www.jwa.org