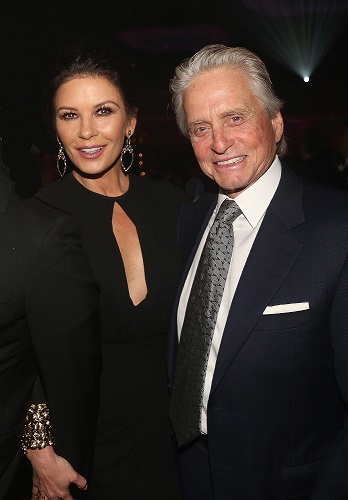 February 26, 2020 – Today The Genesis Prize Foundation (GPF) announced Michael Douglas and Catherine Zeta-Jones as the co-hosts of the 2020 Genesis Prize Ceremony. The gala ceremony honoring human rights activist and Jewish hero Natan Sharansky will take place at the International Convention Center in Jerusalem on June 18.
The $1 million Genesis Prize, dubbed the "Jewish Nobel" by Time Magazine, honors extraordinary individuals for their outstanding professional achievement, contribution to humanity, commitment to Jewish values and Israel. Sharansky was announced as the seventh Genesis Prize Laureate in December 2019 in recognition of his lifelong commitment to human rights, democracy and rule of law, and his struggle for the freedom and unity of the Jewish people.
Actor, producer and peace activist Michael Douglas was previously awarded the Genesis Prize in 2015 in recognition of his extraordinary contribution to cinema, his work as the United Nations Messenger of Peace, and his passion for his Jewish heritage and the Jewish State. The United Nations Messengers of Peace are the most highly recognized of the United Nations Goodwill Ambassadors. Appointed in 1998, Douglas actively worked to advocate for nuclear and conventional disarmament, and is currently the longest-serving active United Nations Messenger of Peace.
"Michael Douglas has been one of the most engaged and committed Genesis Prize Laureates to date," said Stan Polovets, Co-founder and chairman of GPF. "His deeply personal story of connecting with Jewish identity and culture – and advocating for a more inclusive Jewish community - resonated across the world, touching the hearts of many and prompting them to start their own journeys of discovery. I am very glad to see this journey continue and look forward to welcoming Michael and Catherine in Jerusalem in June." (For additional information about Michael Douglas as the Genesis Prize Laureate please see Background.)
World-renown actress Catherine Zeta-Jones accompanied her husband Michael Douglas to Israel in 2015, and was in the audience, along with their two children, Dylan and Carys, during the emotional award Ceremony. This year, the Academy Award-winning actress will be on stage with her husband as the co-host of the Genesis Prize Ceremony.
"Catherine and I look forward to returning to Israel, a country our entire family loves so much," said Michael Douglas. "We are particularly honored to have the opportunity to host the ceremony honoring a true Jewish hero, Natan Sharansky."
Douglas continued: "Coming to Jerusalem this year is also important for our family as a way to honor the memory of my father Kirk Douglas. He adored Israel, and had a special connection with Jerusalem ever since he visited to make the film "Cast a Giant Shadow" in 1965. His re-discovery of his Jewish faith, his passion for his heritage has been a guiding light for me, passed down to my children."
During Douglas' visit to Jerusalem, The Genesis Prize Foundation is planning a special event honoring the cinematic legacy of Kirk Douglas and his connection to Jerusalem.
"It's wonderful that Michael Douglas and Catherine Zeta-Jones – two mega-stars, activists and friends of Israel – are coming to Jerusalem to co-host the Genesis Prize Ceremony," said Natan Sharansky. "I had the pleasure of participating together with Michael in a series of meetings with American Jewish students at different universities. I came to appreciate first-hand Michael's passion for Jewish unity, his commitment to inclusiveness and tolerance, belief in tikkun olam, and his uncompromising stance against anti-Semitism and other forms of bigotry."
BACKGROUND
About the Genesis Prize
The Genesis Prize is a non-political, global Jewish award, designed to celebrate Jewish achievement, foster a stronger connection of global Jewry to their roots and identity, and to strengthen the bond between Israel and Diaspora.
Genesis Prize Laureates to date have included former New York City Mayor and current US presidential candidate Mike Bloomberg; actor, producer and peace activist Michael Douglas; virtuoso violinist Itzhak Perlman; sculptor and advocate for refugees Sir Anish Kapoor; actress Natalie Portman; owner of New England Patriots, one of the most dominant teams in all of professional sports, philanthropist Robert Kraft; and Jewish hero and prisoner of Zion Natan Sharansky. In 2018, the Genesis Prize Foundation also honored U.S. Supreme Court Justice Ruth Bader Ginsburg with its inaugural Lifetime Achievement Award.
All laureates have selected causes about which they are passionate and donated prize funds to philanthropic initiatives supporting these causes. These initiatives have included combatting anti-Semitism and efforts to de-legitimize Israel, inclusiveness of intermarried families in Jewish life, improving the lives of individuals with special needs, helping to alleviate the global refugee crisis, and advancing women's equality. In addition to directing funds to these causes, the Laureates have engaged in yearlong initiatives developed jointly with The Genesis Prize Foundation. Philanthropists Morris Kahn, Roman Abramovich and Mike Bloomberg contributed additional funds to support philanthropic initiatives of Genesis Prize laureates.
About Michael Douglas and the 2015 Genesis Prize
At the time of his selection as the Genesis Prize Laureate in 2015, Douglas directed his $1m award, as well as an additional $1m funds donated by philanthropist Roman Abramovich, to projects aimed at enhancing diversity, tolerance and inclusivity in Judaism. Twenty-eight organizations around the world received a total of $3.5 million in funding under programs in honor of Michael Douglas, including matching grants.
An active and engaged Laureate, Douglas wrote OpEds and spoke at multiple high profile events and conferences on the subject of inclusiveness, as well as the need to combat the rise in anti-Semitism. He headlined UJA Federation of New York's Wall Street Dinner, helping raise a record-breaking $28 million for the organization.
As part of his Genesis Prize awareness campaign, in 2015-16 Michael Douglas toured college campuses in the United States, engaging students in conversations about anti-Semitism, Jewish identity and Jewish values. His partner in this tour was Natan Sharansky, then Chairman of the Jewish Agency of Israel. The two have developed a strong bond of mutual admiration and respect.
Michael Douglas – brief official bio
Catherine Zeta-Jones – brief official bio
Media Contacts:
US: Alison Karlin, GPF
AKarlin@genesisprize.org, +1-267-738-0677
ISRAEL: Nadav Berkowitz, Debby Communications
Nadav@debby.co.il, +972-52-5270613