Michael Douglas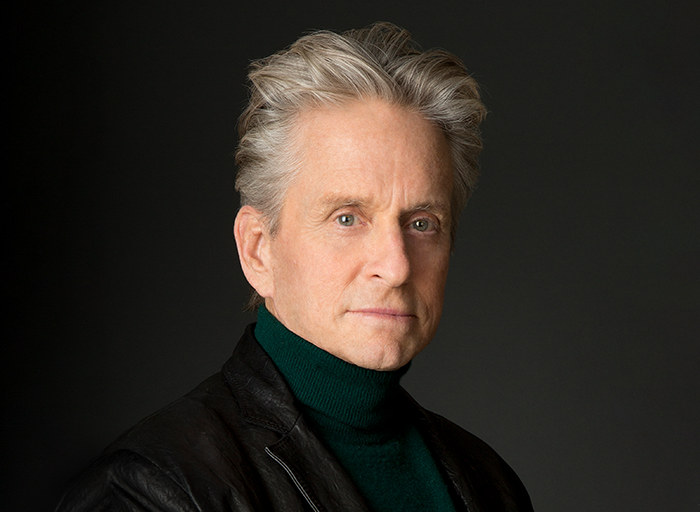 Michael Douglas is among Hollywood's most respected actors, producers and humanitarians. The son of Hollywood legend Kirk Douglas and actress Diana Douglas, he grew up in Connecticut and spent summers on movie sets with his father. After earning a B.A. in dramatic arts from the University of California at Santa Barbara, he moved to New York to continue training at the American Place Theatre. He left a starring role in TV series The Streets of San Francisco to begin his career as a film producer with One Flew over the Cuckoo's Nest, which won five Academy Awards including Best Picture. Douglas won an Oscar as Best Actor for his starring role in Wall Street and has gone on to produce and star in Romancing the Stone, as well as starring in The China Syndrome, Fatal Attraction, Basic Instinct, Falling Down, Wonder Boys, The War of the Roses, The American President, Traffic, and Solitary Man. Douglas starred as famed music icon Liberace in Behind the Candelabra for HBO winning the Emmy, the Golden Globe and the SAG awards as Best Actor in a TV Movie. He also completed Last Vegas, and Beyond the Reach which he also produced. This past summer he starred in Marvel's Ant Man. In 2009 Douglas was the recipient of The American Film Institute's Lifetime Achievement Award.
A champion of diverse social and environmental causes, Douglas was named a United Nations Messenger of Peace in 1998. His primary UN efforts support abolition of nuclear weapons and the prevention of small arms proliferation. He is an honorary member of the board of Ploughshares Fund and on the Board of Nuclear Threat Initiative. Douglas has taken part in numerous UN programs including missions to Albania for an exchange of "jobs for weapons" campaign and to Sierra Leone to participate in returning child soldiers to their families. He has appeared in several public service announcements for the UN and at many events for the UN. His numerous humanitarian activities include the World Peace Conference, Cedars-Sinai Women's Cancer Research Institute, Christopher Reeve Foundation, and Brady Campaign to Prevent Gun Violence, American Cancer Society, Motion Picture & Television Fund, Apogee Project of Niger and the World Economic Forum, amongst many others.
Douglas is married to Academy Award winner Catherine Zeta-Jones. They have two children and he has a son from a previous marriage.