Robert Kraft, 2019 Genesis Prize Laureate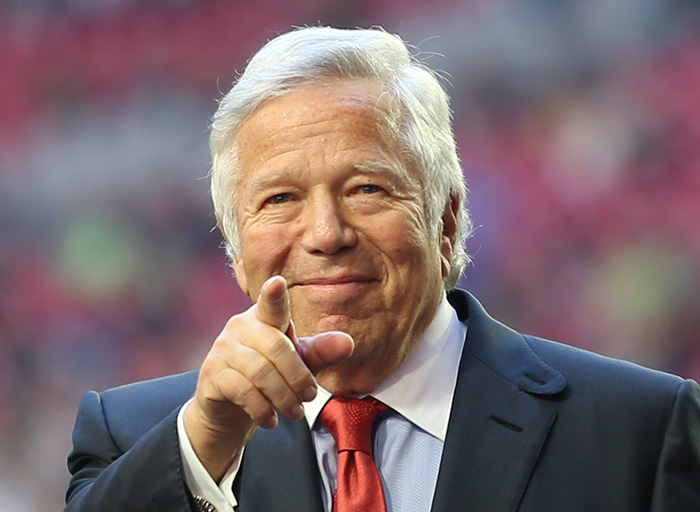 On January 9, 2019, The Genesis Prize Foundation announced Robert Kraft, American philanthropist, owner of the New England Patriots football team, and Chairman and CEO of the Kraft Group, as the 2019 Genesis Prize Laureate.
Mr. Kraft was recognized for his visionary leadership in bringing enthusiasm and pride to the world of sports, and for his generous philanthropy and advocacy in support of tolerance, inclusiveness, and the State of Israel.
Mr. Kraft asked The Genesis Prize Foundation to direct his $1 million award towards initiatives combating antisemitism and delegitimization of Israel.
Robert Kraft, 2019 Genesis Prize Laureate
"I am honored to receive the Genesis Prize and thank The Genesis Prize Foundation for its recognition and willingness to direct my prize monies to such worthy causes. This award amplifies my ability to raise both awareness and additional funds to fight antisemitism, attempts to delegitimize Israel and other forms of prejudices. It is important that we continue to support organizations that focus on combating prejudices by building bridges and uniting people of different backgrounds."
Stan Polovets, Co-Founder and Chairman, The Genesis Prize Foundation
"We are delighted to welcome Robert Kraft to the outstanding family of Genesis Prize Laureates. Kraft has spent most of his life advocating for a more just society, tolerance and inclusiveness. He is one of the world's most generous philanthropists whose charitable giving reflects the Jewish value of tikkun olam – repairing the world."
Isaac Herzog, Chairman of the Executive, Jewish Agency for Israel
"I applaud Robert Kraft's decision to focus his energies and the Genesis Prize award funds on combating antisemitism, the delegitimization of Israel, and racially-motivated hate crimes. The rising tide of antisemitism is a threat not only to Jews, but to the very fabric of any democratic society where it is allowed to take place. We cannot be blind to history's lessons. The time to act is now."